Greeting
Greetings from the President
We would like to express our sincere gratitude for your support to JCI Fukuyama.(Junior Chamber International Fukuyama)
JCI is an international organization of business people wanting nothing but for our town to grow all over the world, and we have always strived to bring about "A Bright and Robust Society" through various projects. This year, we marked the 59th anniversary of JCI Fukuyama. In the midst of the turbulent period facing the 2045 issue of Singularity, we, JCI Fukuyama, will continue to act, asking ourselves what we could do and should reserve.
When population shrink and the wave of becoming borderless of every area are unavoidable, we will devote ourselves to the promotion of citizens' participation for the community development, to the human resource development growing "authentic international people", to connect local companies with other organizations or educational institutions, and to strengthening of coordination with the government.
Making the most of our network all over the world, as active mediators, we create new values through the connections of local citizens, educational institutions, local companies, and the government by involving them.
We thank you and wish to receive your continuous support and understanding for us to keep working for our community and our city, promising to do our best for the future of our children, Fukuyama, Japan, and the world.
2019 JCI Fukuyama President
Shun Fujimoto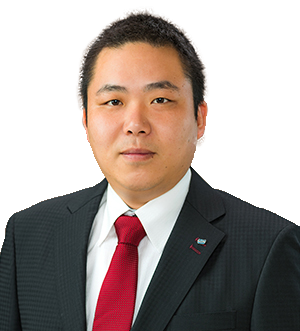 Junior Chamber International
Fukuyama President of 2019
Syun Fujimoto
Basic Policy
sorry,under construction
1. Community Development
1. Promoting Fukuyama to be selected by taking action as a role of an independent intermediary body
2. Investigation and research to introduce the appeals of Fukuyama looking towards the future.
3. Regional Revitalization Efforts through active participation in local Festivals
2. Human Resource Development
1. Leadership Development of Jaycees for the next generation
2. Development of Authentic International Human Resource with the pride in their local area or Japan.
3. Organization Development
1. Active efforts to promote Membership enlargement that leads to enhancement of Organization foundation.
2. Investigation and Research for the sustainable management of Organization that continues to the next generation.
3. Promotion of Exchange program with appreciation and OMOTENASHI mind.
4. Quick and precise Information provision.
5. Promotion of sophisticated monthly meeting and conference operation.
Activities by Executive Committees
1. The Rose Festival & Summer Festival
2. KOUMORI Night at Fukuyama Castle
3. Membership enlargement
Activities by Commission
1. Verification and Investigation Commission to host International Convention
2. Public Relations Commission
External Activities which we will participate as LOM
1. Kyoto Conference (Kyoto)
2. ASPAC (Jeju, Korea)
3. Summer Conference (Yokohama)
4. Chugoku Regional Conference (Higashi Hiroshima)
5. Hiroshima Block Member Conference (Shobara)
6. The 65th National Convention (Toyama)
7. JCI World Congress (Tallinn, Estonia)
8. Activities organized by JCI, JCI Japan, Regional and Block.
2019 Organization
Organization Chart 1
President
Shun Fujimoto
Special Director/
Executive Chairpersonof Festivals
Takami Uda
Immediate Past
President
Daigo Sato
Adviser
Yasumasa Yoshikawa
Vice President
Yasuyuki Sato
Tatsuhiko Murakami
Kazuyuki Goto
Auditor
Hiroki Murakami
Katsunao Takahashi
Senior Executive
Director
Yusuke Kurihara
Organization Chart 2
Chamber/Head of Chamber
Commission
Chairperson
Vice Chairperson
Secretary
Follower
Chamber of Community Development Yu Kuwada
Promoting Fukuyama as a Selected
Community Committee
Akihiro Hata
Taeko Kimura
Tatsuro Tsukamoto
Takahiro Ishikawa
Seijiro Kita
Shigeyuki Karakawa
Koichi Okada
Atsuyoshi Kai
Nobuhisa Kajiwara
Shusaku Onishi
Shuya Yamane
Chamber of Human resource development Keita Fujii
True International Human Resources Development Committee
Maki Takahashi
Tomoko Ogawa
Tsukasa Chiko
Hiroyuki Taga
Yuki Takahashi
Takayuki Kurose
Kazunori Shigeyama
Ichiro Noguchi
Miho Ishii
Taizo Okamoto
Yoshiaki Danura
Akihiro Azuma
Academy Committee
Shusuke Shimada
Yuji Okada
Sho Enari
Takayuki Ogawa
Sotaro Tawa
Manabu Sawaguchi
Yasumasa Yoshikawa
Yoko Sato
Masakazu Sonoda
Masataka Nakamura
Takeshi Yoshimoto
Sachiko Matsumoto
Chamber of Organization development Takefumi Hiruta
Membership exchange and organizational reformation Committee
Daisuke Urakami
Ryohei Iwai
Koichi Kitasago
Akiko Watanabe
Hirohito Ito
Yoshikazu Futami
Masatoshi Shibamura
Tomoyo Hada
Shingo Murakami
Jyunpei Morishita
Kazuhei Miyachi
External Affairs &
Public Relations Committee
Yamato Kaihara
Yuka Fuchigami
Shinya Ishii
Yasuhiro Okutani
Akira Tokuoka
Akito Imagawa
Yoshihito Nishioka
Yoshimasa Yamada
Yuya Takenoshita
Tomohiro Otsuka
Masaki Wakabayashi
Yutaro Hashimoto
Chamber of LOM operation/ Yasuhisa Murakami
General Affairs Committee
Keisuke Hagita
Masaya Okamoto
Takashi Yaomura
Kazuya Fujiwara
Yuichiro Sakatani
Ai Hamada
Norio Shigemasa
Yasunori Kawamoto
Koji Morita
Hirooki Kochi
Fumiaki Kobayashi


Takahiro Nakabayashi


Shima Sakuda